Stay at the forefront of this exciting and progressive field
Applications are now closed for our January 2024 start. You may however be interested in our Engineering Business Management online MSc or Business Analytics online MSc.
From healthcare to finance, artificial intelligence (AI) now impacts nearly every industry. AI not only influences the way we interact with technology and each other, it also shapes our very development.
Our Master's in Artificial Intelligence online offers individuals from both computer science and non-computing-based backgrounds an opportunity to understand how data and AI technology can be applied to support industry progress in an increasingly complex world.
Quick course facts
Minimum Duration:

 2 years, 3 months

Start dates:

 January, May, and September.

Study Type:

 100% online
Examining every aspect of AI, from robotics and mathematics to machine learning and natural language processing, this MSc Artificial Intelligence online course will equip you with the skills to secure one of a growing number of careers in this incredibly challenging but rewarding field. You'll also explore the contemporary ethical implications of AI and the need for policies to ensure transparency and accountability, helping to further future-proof your knowledge.
Providing a choice of pathways, you'll have the flexibility to tailor your studies to your particular career path or area of interest:
Technical: for students wishing to specialise in the more technical side of AI, this route has a greater emphasis on programming and machine learning.
General: for students from less technical backgrounds who want to understand AI in context, this pathway offers a broader introduction to all aspects of the subject.
Although previous coding experience is not required to study this course, it is recommended. Maths experience is essential; it will prepare you for the high-level mathematical concepts covered throughout the course.
By developing your comprehensive understanding of the practical applications and emerging opportunities in AI, our online Artificial Intelligence Master's will fill you with the confidence to push the boundaries in this exhilarating, progressive specialism.
'This course has been developed to match the growing need for an AI literate workforce and for employees with knowledge of applications of AI-powered tools. You will not only learn the technical aspects of AI, and how it supports progress across a variety of industries, but explicitly consider the ethical implications of AI and the need for concrete policies to ensure safety, accountability and transparency'
— Christina Keating, MSc AI Course Lecturer
Choose Bath online
By combining ideas from topics such as data science and robotics with the more technical aspects of programming and machine learning, our Artificial Intelligence Master's course provides the skills you need to put AI into practice.
Artificial intelligence insights are crucial to helping businesses evolve their strategies, be it through customer preference tracking, service improvement or robotic development.
The University of Bath draws on input from its 'UKRI Centre for Doctoral Training in Accountable, Responsible and Transparent AI (ART-AI)'. This means our online MSc Artificial Intelligence degree provides you with the most up-to-date understanding of the emerging possibilities of artificial intelligence, as well as its ethical implications.
The systematic approach and challenges that come with an MSc programme are definitely an advantage to consider if you would like to compete in this arena.

Mohammad Dasseh
Career impact
---
Whether you are switching career, enhancing your prospects or just expanding your knowledge, our online masters in artificial intelligence will support your progress in this future-focused specialism.
Through its leading role in the Institute of Coding – an initiative made up of universities and corporations committed to filling the digital skills gap – the University is able to help you identify and progress precisely the skills that employers are looking for. Recently, the IofC has won an award for its diversity and inclusion CTRL Your Future campaign, involving events, panel talks, workshops and short films. The award recognises the Institute's success in reaching a more diverse group of learners.
Maybe you're a computer scientist keen for a new challenge. Perhaps you're passionate about the future of AI and are just waiting for an opportunity to learn more. Whether it's the in-depth technical or the more theoretical understanding you seek, this course will stretch your abilities, priming you for a career in this rapidly growing field.
Why it matters who you learn with.
---
As you narrow down the possibilities of where to pursue your degree, consider who you'll learn with. Your cohort can be a strong benefit to the course you select. When your peers come from around the world and share similar professional roles, their experiences enhance your learning and worldview. By learning alongside a diverse cohort, you'll strengthen your professional skills, cultural knowledge, professional network and can contribute to more areas of business. See just who you'll learn with in the University of Bath's online MSc in Artificial Intelligence.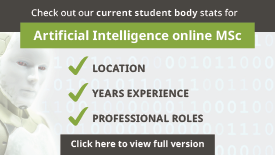 Explore the curriculum
---
Offering a choice of two specialist pathways, the MSc Artificial Intelligence curriculum caters for students who want more technical in-depth knowledge and those seeking a more strategic understanding of the subject.
Exploring modules such as Principles of Programming, Humans and Intelligent Machines, Robotics and Machine Learning, the course provides a broad picture of AI and its application in the real world.
Finally, a research-based dissertation provides an opportunity to apply the knowledge and skills you've acquired throughout the course.
Learning outcomes
---
On completion of the Artificial Intelligence Master's degree online, you will be able to:
Explain the core underlying statistical context that applies to the processing and modelling of data
Implement low-level data science functionality in a relevant programming language
Apply a range of modern analytic technologies, including machine learning and statistical techniques
Describe and demonstrate the processes involved in the effective practice of data science and statistics, from initial data handling through to presentation of output
Undertake and complete an individual innovative research or developmental project
Understand and show critical awareness of the current state and future directions of technological advances
I'm really enjoying being challenged in assignments while having the support of all of my course-mates … There's a really friendly and supportive atmosphere from everyone learning and teaching the course.

Jess Crees
Qualifications
You should have a first or strong second-class bachelor's honours degree or international equivalent
To apply for this course, you may have an undergraduate degree in any subject, but you must demonstrate evidence of relevant quantitative skills (especially algebra and calculus) either through your degree study or by alternative means
International students
If your first language is not English you will need IELTS with a grade of at least 6.5 overall and no less than 6.0 in any of the four parts (listening, reading, writing and speaking). If you completed your degree in the UK within the last 2 years prior to the start of the course, you may be exempt from our English language requirements.
Choose online
---
Our active learning environment will keep you connected to the Artificial Intelligence Master's curriculum all the way through to graduation.
Engaging video content and real-life case studies
Interaction and networking with students and lecturers
Digital resources to support your studies and develop your career
University of Bath
Online learning
Interactive.
Immersive.
Supportive.
Designed exclusively for online study,
the University of Bath's Virtual Learning Environment…
takes the learning experience further.
1: Find everything you need quickly and easily
2: Prep your workload and set your weekly agenda
Unit calendar
Upcoming events
Calendar of deadlines
3: Study in bite-sized blocks at a time and place that suits you
4: Tap into a wealth of all-inclusive e-resources
5: Experience academic content in a variety of engaging ways
6: Connect with specialist support when you need it
7: Bring learning to life with video and real-world case studies
8: Enhance your studies with hands-on interactive assignments
9: Collaborate and network with peers and tutors
10: Build your own portfolio and share your best work
Take what you've learned and apply it in the real world
Time to further your career? Request information and apply now.
Awards and rankings
Our awards and rankings highlight the academic rigour of our lecturers, research and course content.
---
Webinars
Discover our Artificial Intelligence webinars and get a feel for what it's like to study online at the University of Bath.
---
Watch recording 1 hour
Watch this course overview webinar and learn more about our Artificial Intelligence online MSc, with teaching fellows Dr Michael Wright and Dr Andrew Chinery.
Watch recording 1 hour
Discover some answers to frequently asked questions directly from course leader Dr Ben Ralph and academic Dr Christina Keating. Get to know more about what its like to study the Artificial Intelligence online MSc.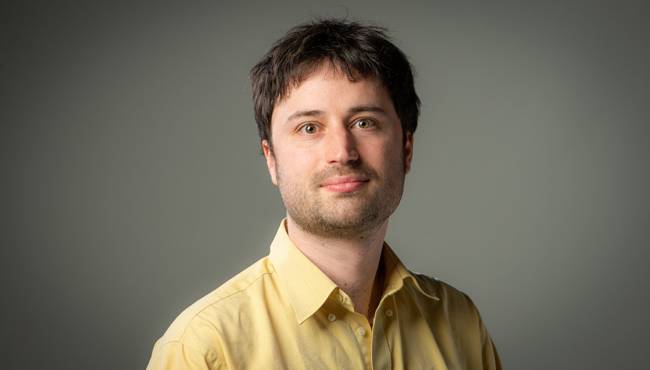 Dr Ben Ralph
Dr Ben Ralph is the Director of Studies for the Artificial Intelligence online MSc, and teaches on both the Artificial Intelligence and Computer Science online MSc. As a researcher Ben has mainly studied structural proof theory: in particular the problem of proof identity, using techniques including combinatorial proofs and Deep Inference, and before his PhD at Bath completed a Masters degree in Mathematics and Philosophy at the University of Oxford. Ben has also signed the pledge for sustainable research in theoretical Computer Science.