Make strategic economics decisions that impact everyday lives
When evaluating the various risks of running a company, advising governments, or addressing issues that affect our environment and society, organisations rely heavily on professionals who can provide reliable statistical data, trends, and informed solutions. 
Gain the qualitative skills and industry-leading knowledge you need to make sound business decisions with an online MSc in Applied Economics (Banking and Financial Markets) from the University of Bath — the first university in the UK to offer a master's in applied economics online. The applied economics course is ideal if you are currently a mid-career professional who would like to become an advanced economist or gain a competitive edge in banking or finance. 
The University of Bath's innovative course is designed to ensure that you are prepared to tackle pressing issues such as financial crises, environmental and health problems, infrastructure, supply chain, and numerous other changes that can significantly affect society and the global economy. 
Quick course facts:
Minimum Duration

: 2 years 6 months

Start dates:

 January, May and September
Study Type: 100% online
Our expert faculty will show you how to use and apply today's most popular economics tools, such as the statistical software programmes Stata and R. 
Whether you have a background in economics or not, you will graduate able to compete on the global job market as an advanced economist in finance, banking, consulting firms, government organisations, research institutions, or embark on a PhD. The University of Bath is ranked the #2 best university for Accounting & Finance in the UK by the Complete University Guide 2024.1,2 This ranking includes excellent student satisfaction scores and graduate prospects.
Choose Bath online
Taught by published researchers at the Department of Economics, your studies will be fuelled by the latest thinking in economic theory, econometrics and finance. To ground these contemporary ideas and theoretical approaches, our lecturers explore their application in a real-world setting, using case studies and interactive exercises. This approach ensures you have the skills and the confidence to put what you've learnt into practice after graduation.
I would highly recommend this program to anyone looking to get their feet wet again in applying economic concepts to real-world problems. The program is well structured and challenging, combining technology and pedagogy to provide the best student experience. The best part of the program is that it does not feel like a virtual program. I enjoy the discussion forum where I can learn and share knowledge about any subject matter with brilliant minds from all over the world. The Applied Economics (Banking & Financial Markets) course at the University of Bath presented itself not only as a good intellectual fit but offered the tools and flexibility around classes to scale my career to the next level.

Emmanuel Nkrumah
Career impact
---
The online master's in applied economics course is accessible to all students eager to learn more about economics and gain the quantitative tools, methodology, and know-how required to be a strategic economist who can apply theory to solve real-world problems. Your skills are immediately applicable to your current job, and they will help you enter or advance in several applied economics roles. You might pursue a position as an applied economist, civil servant, analytical consultant, financial analyst, investment banker, risk analyst, and more.
According to Burning Glass, employers in the UK are seeking candidates with business process and analysis experience. Between 2020 and 2021, job postings related to Applied Economics increased by 65% across the UK.³  Gain the comprehensive preparation you need to become a top candidate in this field with Bath's online MSc in Applied Economics.
Learning outcomes
---
Analyse, interpret and critically evaluate economic data and research
Apply principles to respond to economic and policy issues
Design and implement your own research projects
Use micro- and macro-economics to guide strategic decision-making
Develop the necessary mathematical, statistical and econometrics skills
Acquire research skills to support future commercial or doctoral research
Why it matters who you learn with
---
As you narrow down the possibilities of where to pursue your degree, consider who you'll learn with. Your cohort can be a strong benefit to the course you select. When your peers come from around the world and share similar professional roles, their experiences enhance your learning and worldview. By learning alongside a diverse cohort, you'll strengthen your professional skills, cultural knowledge, professional network and can contribute to more areas of business. See just who you'll learn with in the University of Bath's online MSc in Business Analytics.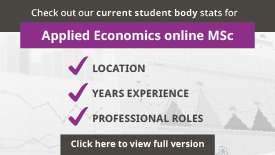 The online environment has allowed me to meet and work with students from various backgrounds, in different fields of employment, from all over the world. Building these connections has been one of the best parts of the online experience so far.

Ané Craig
Explore the curriculum
---
The MSc in Applied Economics online course provides you with foundational principles and theories of economics, even if you're coming from another field but looking to switch careers. The Applied Economics course also includes an emphasis on quantitative tools and methods. You will practice with cutting-edge software as you explore real cases with economics issues facing today's global banking and financial markets.
Bath's Applied Economics master's course features a unique three-phase course structure. Part one of the course provides an overview of economics and economic theories, such as microeconomics (including strategic decision making and games), macroeconomics, econometrics, and more. Part two helps you build your applied economist toolkit within the areas of banking and finance, including financial markets and international monetary policy. Part three of the course, the master's project, allows you to conduct independent research on an economics topic most relevant to your career goals.
Qualifications
Typically you should have a first or second class bachelor's honours degree or international equivalent. We welcome applications from those with a 2:2 honours degree (or its international equivalent) in subjects with a high level of economics content
To apply for this course, you must have an undergraduate degree in a social science or business-related discipline such as business administration, finance, accounting, international trade, banking, financial management, public finance or politics
We may make an offer based on a lower grade if you can provide evidence of your suitability for the degree
International students
If your first language is not English you will need IELTS with a grade of at least 6.5 overall and no less than 6.0 in any of the four parts (listening, reading, writing and speaking). If you completed your degree in the UK within the last 2 years prior to the start of the course, you may be exempt from our English language requirements.
Choose online
---
Our active learning environment will keep you connected to the curriculum all the way through to graduation.
Engaging video content and real-life case studies
Interaction and networking with students and lecturers
Digital resources to support your studies and develop your career
For anyone looking forward to studying MSc Applied Economics (Banking & Financial Markets) from the University of Bath, I strongly recommend you do so without hesitation, it will be one of the best decisions you will make. Because it is online, it gives you the flexibility of studying from any part of the world. I guarantee you will enjoy it as much as I do. It has worked out for me despite having a full-time job.

Halima Hassan Abdulazeez
University of Bath
Online learning
Interactive.
Immersive.
Supportive.
Designed exclusively for online study,
the University of Bath's Virtual Learning Environment…
takes the learning experience further.
1: Find everything you need quickly and easily
2: Prep your workload and set your weekly agenda
Unit calendar
Upcoming events
Calendar of deadlines
3: Study in bite-sized blocks at a time and place that suits you
4: Tap into a wealth of all-inclusive e-resources
5: Experience academic content in a variety of engaging ways
6: Connect with specialist support when you need it
7: Bring learning to life with video and real-world case studies
8: Enhance your studies with hands-on interactive assignments
9: Collaborate and network with peers and tutors
10: Build your own portfolio and share your best work
Take what you've learned and apply it in the real world
Time to further your career? Request information and apply now.
Webinars
Discover our Applied Economics webinars and get a feel for what it's like to study economics online at the University of Bath.
---
Watch recording 1 hour
Watch this Applied Economics online MSc overview webinar led by Dr Simona Montagnana and Dr Aliya Kenjegalieva.
Watch recording 1 hour
Watch this overview webinar and learn more about 'what is Econometrics' with course director Dr Simona Montagnana. 
Watch recording 1 hour
Watch this Applied Economics online MSc overview and a VLE demo webinar led by Dr Simona Montagnana.
Awards and rankings
Our awards and rankings are testament to our commitment to teaching and research excellence.
---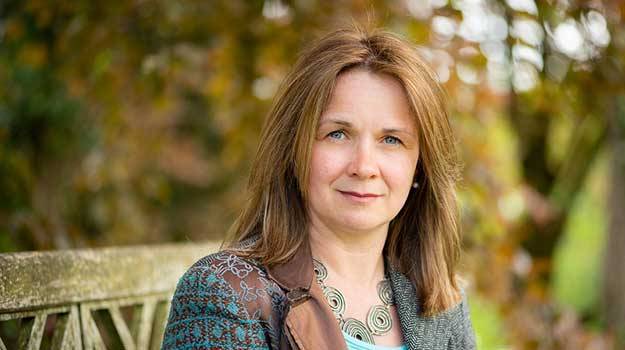 Dr. Simona Montagnana
Simona obtained her PhD degree in Economics of Production and Development from University of Insubria – Italy. Research interests are in the area of economic development, industrial organisation and public policy. Before joining academia, Dr Montagnana was a public policy advisor in regional and national policy institutions in Italy.
The Complete University Guide. Accounting & Finance Subject League Table 2024: https://www.thecompleteuniversityguide.co.uk/league-tables/rankings/accounting-and-finance
Rankings based on undergraduate data
Burning Glass; n = 4,182. Last 12 months (Jul. 1, 2021 - Jun. 30, 2022) AND UK-wide AND ( BGTOCC : Financial Analyst OR BGTOCC : Risk Manager / Analyst OR BGTOCC : Financial Manager OR BGTOCC : Account Manager / Representative OR BGTOCC : Loan Officer OR BGTOCC : Economist OR BGTOCC : Account Executive OR BGTOCC : Communications Manager OR BGTOCC : Communications Coordinator OR BGTOCC : Personal Banker / Banking Sales Staff ) AND ( Education : Bachelor's Degrees, Graduate Certificates/Diplomas (specified) OR Education : Postgraduate Degrees, Level 5 Certificates/Diplomas, Level 5 S/NVQs (specified) ) AND ( Industry : Financial service activities, except insurance and pension funding (64) )