Upgrade your computer science career potential
We have limited spaces on our January 2024 start and we are currently nearing full capacity. You may however be interested in our Engineering Business Management online MSc or Business Analytics online MSc.
Over eighty per cent of all jobs advertised in the UK now require digital skills, however, employers say the lack of available talent is the single biggest factor holding back growth.1 Gaining relevant digital skills and competence in the technical sphere opens up a range of exciting professional opportunities for you.
Centred on the industrial application of computing, our online MSc Computer Science degree will give you a sound foundation in practical and theoretical computation, no matter what your current skillset. This emphasis on the fundamental principles of computing, in real-life settings, will give you the skills to fit into a technical role, even if you do not have prior programming experience. Because it is offered part-time, you can complete the online master's in computer science while working.
'Studying an MSc in Computer Science is giving me both a holistic view of the field and a detailed view of what I enjoy the most. This is not only useful from a technical perspective, but also helps me to better decide on the particular areas that I would want to specialise.'
— Mohammad Dasseh, Computer Science online MSc student
Quick course facts
Minimum Duration: 2 years, 3 months
Start dates: January, May, and September

Study Type:

 100% online
Choose Bath's online MSc in Computer Science
Developed and taught by a practicing group of influential computer scientists, our online computer science course will expose you to emerging ideas in AI, human computer interaction, cybersecurity, and programming. Our online MSc is focused on teaching you the general principles of programming.
For example, in your first unit, you will learn the basics of programming using the C language and object-oriented programming using Java. In other online course units, you will be introduced to additional languages (such as Python, Haskell, and SQL). The computer science course will cover which problems these languages are specifically suited to solving. Learning the principles behind programming equips you to effectively approach new problems in your computer science, cybersecurity, or IT career.
Throughout the computer science online course, our lecturers will give you a deeper understanding of computer systems, working with you to accelerate your mathematical knowledge and your understanding of computational models, theories, and methodologies.
Our online computer science degree will encourage you to apply this knowledge and experiment, preparing you for solving unique challenges with code. You'll also benefit from real-world insights through our links with major tech corporations such as Imagination Technologies, Electronic Arts, BAE Systems, KPMG, and Nokia.
Bath's distance learning environment allow you to complete the online MSc in Computer Science part-time while working.
I've got a new job with better benefits because this course has already started to fill in the gaps in my knowledge. Plus studying part-time while working helps you to stand out from other interview candidates and showed my dedication to my career to my previous manager and my new one.

Jess Crees
Career impact
---
Ranked 6th in the UK for Computer Science in the Complete University Guide 20242, we are recognised for our commitment to career progression in this field.
We also head up the Institute of Coding; an initiative made up of universities and corporations dedicated to plugging the digital skills gap. This connection opens the door to contributions from big businesses, giving you unique insights into what skills employers are looking for. The IofC has recently won an award for its diversity and inclusion CTRL Your Future campaign, involving events, panel talks, workshops, and short films. It has been recognised for its success in reaching a more diverse group of learners.
Studying the University of Bath's Computer Science online master's course can unlock a number of technically related professions, including technical analytics, coding, computer science, cybersecurity, and software development. In the first half of 2021, 173,309 tech jobs were advertised monthly on average (1,039,854 total). This represents an increase of 42% relative to 2019.3
Why it matters who you learn with.
---
As you narrow down the possibilities of where to pursue your online computer science degree, consider who you'll learn with. Your cohort can be a strong benefit to the course you select. When your peers come from around the world and share similar professional roles, their experiences enhance your learning and worldview. By learning alongside a diverse cohort, you'll strengthen your computer science skills, cultural knowledge, professional network and can contribute to more areas of business. See just who you'll learn with in the University of Bath's online MSc in Computer Science.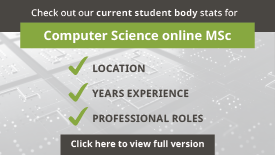 Explore the curriculum
---
In a world short of skilled computer scientists, the units in our Master's in Computer Science course will equip you with the skills to succeed in this ever-growing sector.
From learning how to develop computer software in our principles of programming unit through to artificial intelligence and cybersecurity, our compelling course units will provide you with the real-world skills required for a technically challenging career. Because the computer science degree is built for those working full-time, you can immediately apply these new skills on the job.
Our online Computer Science course finishes with a project. You will produce a unique piece of research using techniques learned throughout the year. Then, you can reference your project when you tell potential employers about the value of your online MSc in Computer Science.
Learning outcomes
---
Understand core theories and practices of computer science without needing a digital background
Explore exciting new opportunities in AI, human computer interaction and cybersecurity
Acquire key theories and mathematical principles to support your understanding of emerging techniques
Develop primary research and critical evaluation skills to form your own solutions
Contribute towards the body of knowledge of particular technical and industrial fields
Think creatively and critically and push the boundaries with code
I chose the University of Bath because they are part of the Institute of Coding which aims to increase the number of people who can work in technology. It's important to me to study at a university that understands the real-world impact of technology.

Jess Crees
Qualifications
You should have a first or strong second-class bachelor's honours degree or international equivalent
To apply for this course you may have an undergraduate degree in any subject, but you must demonstrate evidence of relevant quantitative skills (especially algebra and calculus) either through your degree study or by alternative means
We may make an offer based on a lower grade if you can provide evidence of your suitability for the degree
International students
If your first language is not English you will need IELTS with a grade of at least 6.5 overall and no less than 6.0 in any of the four parts (listening, reading, writing and speaking). If you completed your degree in the UK within the last 2 years prior to the start of the course, you may be exempt from our English language requirements.
Why choose online?
---
Our active learning environment will keep you connected to the curriculum all the way through to graduation.
Engaging active learning environment
Interaction and networking with students and lecturers
Digital resources to support your studies and develop your career
University of Bath
Online learning
Interactive.
Immersive.
Supportive.
Designed exclusively for online study,
the University of Bath's Virtual Learning Environment…
takes the learning experience further.
1: Find everything you need quickly and easily
2: Prep your workload and set your weekly agenda
Unit calendar
Upcoming events
Calendar of deadlines
3: Study in bite-sized blocks at a time and place that suits you
4: Tap into a wealth of all-inclusive e-resources
5: Experience academic content in a variety of engaging ways
6: Connect with specialist support when you need it
7: Bring learning to life with video and real-world case studies
8: Enhance your studies with hands-on interactive assignments
9: Collaborate and network with peers and tutors
10: Build your own portfolio and share your best work
Take what you've learned and apply it in the real world
Time to further your career? Request information and apply now.
Awards and rankings
Our awards and rankings are testament to our commitment to teaching and research excellence.
---
Webinars
Discover our Computer Science webinars and get a feel for what it's like to study online at the University of Bath.
---
Watch recording 1 hour
Watch Dr Christina Keating and Dr Ben Ralph as they provide an introduction to the online courses and answer key questions.
Watch recording 1 hour
Watch this webinar on the Principles of Programming and Foundations of Computation, delivered by the online Computer Science MSc course lecturer, Dr Michael Wright.
Watch recording 1 hour
Join this webinar with course director Dr Christina Keating and watch a demo of the Virtual Learning Environment (VLE) for our Computer Science online MSc.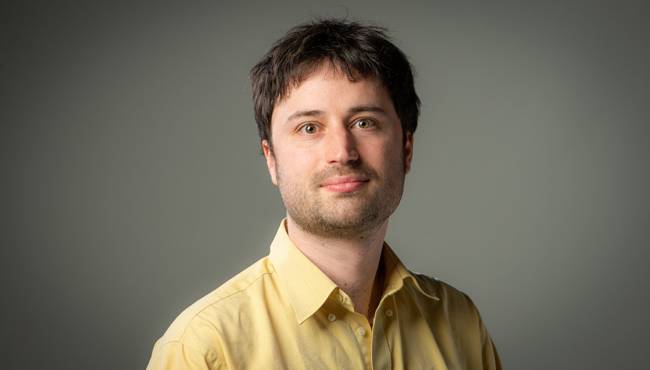 Ben Ralph
Dr Ben Ralph is the Director of Studies for the Artificial Intelligence online MSc, and teaches on both the Artificial Intelligence and Computer Science online MSc. As a researcher Ben has mainly studied structural proof theory: in particular the problem of proof identity, using techniques including combinatorial proofs and Deep Inference, and before his PhD at Bath completed a Masters degree in Mathematics and Philosophy at the University of Oxford. Ben has also signed the pledge for sustainable research in theoretical Computer Science.
Explore your options with the University of Bath. If you are interested in studying the equivalent on-campus MSc, you can find out more by visiting our full-time Computer Science MSc course page.