Advance as a leader in engineering and technology
Develop an in-depth understanding of engineering and technology leadership concepts while gaining the skills and understanding of business, operations, and strategy to apply them in business settings.
Your studies will include business analysis, product development and supply chain management. You will apply innovative new managerial tools and theories to real-world challenges. Throughout the course, you'll develop a strong foundation in management essentials such as project management, strategy, operations and finance.
This course brings together expertise from the faculty of Engineering & Design plus the EQUIS- and AMBA-accredited School of Management. Our distinguished lecturers draw upon their real-world industry experience; this insight, underpinned by academic principles, fully prepares you for the next stage of your career.
'After graduating, I started working as a project manager in a mid-sized company in West Germany in the Special Mission Aircraft Department. In my role, I coordinate, manage, monitor and communicate as an interface between our technicians, our suppliers, as well as our developers and also the customers.'
— Carl-Philipp Riehle, Campus MSc Engineering Business Management graduate
This course will prepare you to become an outstanding engineering business manager. We ensure that future leaders are educated in strategic and innovative processes. Plus, you'll realise and learn how to harness the advantages of diverse, multicultural teamwork and collaboration in engineering and technology.
Because our course is offered entirely online, you can study without interrupting your current career and lifestyle commitments. In optional live sessions, the Engineering Business Management online MSc will bring in guest speakers and alumni who will talk about their experiences in the industry. You will also have the opportunity to meet and work alongside your coursemates.
Quick course facts
Minimum Duration: 2 years, 3 months
Start dates: January, May and September

Study Type:

 100% online
Choose Bath online
Our online course offers you immediate access to cutting-edge research and industry thinking. You'll gain a different perspective and further your career with improved authority and credibility, whether you'd like to boost your current role or adjust your career path.
In your Engineering Business Management course, you'll draw inspiration from distinguished faculty as you work through case studies from Bath's real-world industry connections. We make sure to keep our engineering business management curriculum contemporary and relevant to help you achieve your career goals.
I would recommend this course to anyone from engineering and working in a management background to improve their knowledge and performance. My personal experience was very good, the course is well balanced and it had covered all the core concepts which a management team member must require to become a good manager.

Syed Saqib
Career impact
---
According to Burning Glass Labour Insights, over 75,000 jobs were posted in engineering and business management in January 2020. This fully online master's course in Engineering Business Management from the University of Bath prepares you to take advantage of these opportunities and set yourself apart as a thoughtful, effective leader in the field.
Explore the curriculum
---
The course units are designed to work together as one complete entity with a uniquely integrated approach that connects traditional engineering and business areas. This will help you think differently, enabling you to hone in on business and management knowledge.
Units of study in this course cover comprehensive industry topics in:
Engineering Management for Sustainable Value
Supply Chain Management
Leadership & Professional Skills
Management Practices for Engineering
Throughout skills-based, practical course work, you'll examine real-world case studies to assess and immediately apply the skills you learn to your work environment. You'll practice teamwork, team communications, cross-cultural collaboration skills, communication skills, conflict management, strategic feedback, business strategy and organisational management.
Learning outcomes
---
Apply key managerial tools and theories to real-life engineering and technology management challenges
Employ leadership and professional skills for the effective management of engineering business projects, teams and organisations
Evaluate the role of sustainable practice in engineering and technology-based organisations
Assess the role of operations and supply chains in managing engineering organisations
Lead and participate in product and service development teams and evaluate approaches considering an organisation's innovation strategy
Formulate appropriate process improvement initiatives affecting issues such as efficiency, cost and time
Recognise and propose solutions for challenges associated with the commercialisation of new products, services or technologies
Recognise approaches for working effectively in interdisciplinary teams, harnessing diversity to deliver solutions to engineering and technology management challenges
Critically assess data and information from multiple sources to make strategic judgments and recommendations
Qualifications
You should have a Bachelor's honours degree or international equivalent, typically a 2:2 or above
Ideally, you should have an undergraduate degree in an engineering or management discipline, but other subjects will be considered
We may make an offer based on a lower grade if you can provide evidence of your suitability for the degree
International students
If your first language is not English you will need IELTS with a grade of at least 6.5 overall and no less than 6.0 in any of the four parts (listening, reading, writing and speaking). If your first language is not English and you've completed your degree in the UK within the last two years, you may be exempt from our English language requirements.
Why choose online?
---
Our active learning environment will keep you connected to the curriculum through to graduation.
Engaging video content and real-life case studies
Interaction and networking with students and lecturers
Digital resources to support your studies and develop your career
Flexible learning opportunities that fit into your life
FIND OUT WHAT IT'S LIKE TO STUDY ONLINE
University of Bath
Online learning
Interactive.
Immersive.
Supportive.
Designed exclusively for online study,
the University of Bath's Virtual Learning Environment…
takes the learning experience further.
1: Find everything you need quickly and easily
2: Prep your workload and set your weekly agenda
Unit calendar
Upcoming events
Calendar of deadlines
3: Study in bite-sized blocks at a time and place that suits you
4: Tap into a wealth of all-inclusive e-resources
5: Experience academic content in a variety of engaging ways
6: Connect with specialist support when you need it
7: Bring learning to life with video and real-world case studies
8: Enhance your studies with hands-on interactive assignments
9: Collaborate and network with peers and tutors
10: Build your own portfolio and share your best work
Take what you've learned and apply it in the real world
Time to further your career? Request information and apply now.
Awards and rankings
Our awards and rankings are testaments to our commitment to teaching and research excellence.
---
Webinars
Discover our Engineering Business Management webinars and get a feel for what it's like to study online at the University of Bath.
---
Recording length 76 minutes
Listen to an engaging discussion on "Incremental vs. Breakthrough Innovation- which is really better?" in this Engineering Business Management online MSc webinar, led by Dr Debbie Janson, Course Director, and Professor Peter Mott.
Recording length 59 minutes
Listen to our course overview webinar and also hear our case study on Management Practices in Engineering, with course leader Debbie Janson and Peter Mott. During this session course leaders also answers questions about the 100% online MSc.
Recording length 50 minutes
Listen to our course overview webinar and learn more about our Engineering Business Management online MSc, with course leader Debbie Janson. During this session Debbie Janson also answers questions about the 100% online MSc.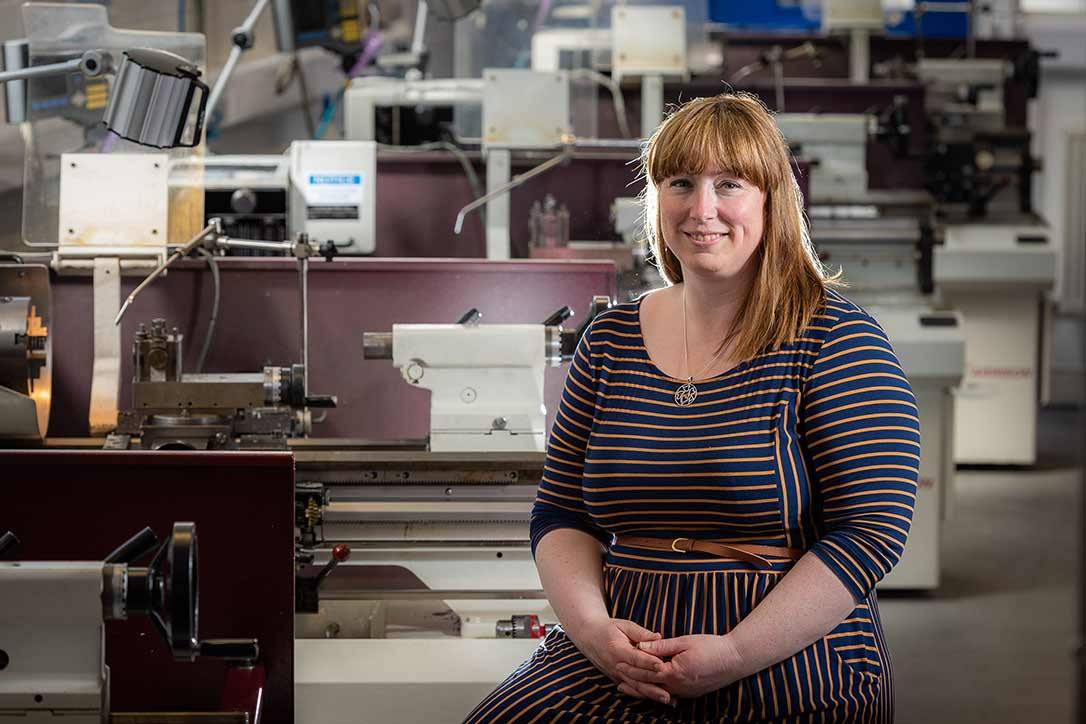 Debbie Janson
Debbie Janson, a chartered engineer and senior lecturer at the University of Bath's Department of Mechanical Engineering, has been recognised as one of the top 50 women in engineering in the UK for improving personal protective equipment for women.
The Women's Engineering Society award recognises her research on improving safety footwear for women and her study of gender and sex differences in PPE and design inadequacies across the PPE industry, an area she was motivated to research after facing these issues in her 20-year career in industry.
Explore your options with the University of Bath. If you are interested in studying the equivalent on-campus MSc, you can find out more by visiting our full-time Engineering Business Management MSc course page.
Rankings based on undergraduate data