Develop your business analytics knowledge in as little as 1 year
Study the Business Analytics online PGCert with a top-ten UK university1
Social media platforms, e-commerce, and other web activity create waves of data – and organisations depend on business analysts to find the insights left in their wake. With the online Postgraduate Certificate (PGCert) in Business Analytics course, you can establish knowledge of software and techniques to grasp how big data insights help solve challenges and uncover opportunities in our global economy.
Our PGCert equips you with a practical understanding of business analytics concepts relevant to careers in finance, healthcare, marketing, and other growing fields. You'll pursue the PGCert entirely online and on a part-time basis, getting the flexibility to meet your personal commitments while completing the six course units.
Quick course facts
Minimum Duration: 1 year
Start dates: January, May, and September
Study type: 100% online
Course benefits
The PGCert in Business Analytics is offered by the University of Bath School of Management, a leading UK business school with AMBA and EQUIS accreditation. You'll complete the six units online, getting introduced to fundamental techniques for collecting, processing, and analysing data. After completing this course, students with strong quantitative backgrounds can upgrade their registrations to our Postgraduate Diploma or MSc Business Analytics.
Business analytics skills that forecast success for your career
---
Estimates show the amount of data produced each year grew by 6,000% from 2010 to 2023.2 Such a massive amount of data creates a lot of noise – to cut through it to find valuable insights, organisations rely on professionals with advanced analytics qualifications. With our Business Analytics online PGCert, you can gain the skills to spotlight trends and discover emerging markets across the UK.
Learning outcomes
---
Demonstrate systematic and thorough understanding of the use of business analytics

Demonstrate systematic and thorough understanding of contemporary methods and practice related to business analytics and their consequences in the wider international context

Analyse, interpret, and present multidimensional and complex data
Identify operational, tactical, and strategic level resource management problems and the appropriate amount of detail to analyse based on the level
Acquire expert skills in using spreadsheet software
Develop written communication skills for effectively presenting technical results to non-technical audiences
Improve time management skills
Apply problem-solving skills to diverse areas
Explore the curriculum
---
Our PGCert in Business Analytics focuses on core practices for applying insights gleaned from big data. You'll learn the basics of harnessing database tools and computing programs to analyse, optimise, and visualise information in ways that help management teams make informed decisions. The course includes six units delivered in eight-week blocks.
Units
Examine forecasting techniques to achieve the best possible estimates for unknown parameters such as customer demand.
You'll learn to:
Interpret patterns and trends in data, while understanding the uncertainties associated with forecasting
Draw managerial conclusions from data using forecasting methods and software
Prepare business forecasting model reports to a non-technical audience
Review concepts of data analysis, using statistical analytics software to develop your interpretations.
You'll learn to:
Explore the uncertainties associated with data analysis
Perform statistical analysis on a set of given data
Make managerial conclusions about a given set of data using descriptive statistics
Understand the advanced functions of Excel as well as the programming language (VBA) embedded within it, to support business decision-making.
You'll learn to:
Understand and critique the capabilities and limitations of Excel
Use advanced functions of Excel to provide business decision support
Assess ways in which to solve business problems using Excel and VBA
Learn how to make the best possible decisions through the use of mathematics and computers, and present the optimised results to a non-technical audience.
You'll learn to:
Model and solve real-life managerial challenges as optimisation problems
Recognise components of an optimisation problem within a given managerial context
Assess the complexities to solve issues using an optimisation model
This introduction to databases for storing data and retrieving information helps you optimise and process data to derive managerial insights.
You'll learn to:
Identify the underlying data model of a business process
Design a database for efficient data storage and retrieval
Eliminate data duplication to achieve information consistency
Present multidimensional data in tabular format
Learning Outcomes:
Understand and implement data models.
Design a database that will best fit the needs of a business in terms of both flexibility and efficiency.
Use optimised queries to process data and derive managerial insights.
Use SQL and general database software.
Get to grips with key Business Intelligence software, including graphical report design, dashboard design, and visualisation techniques to develop high-level insights.
You'll learn to:
Identify the underlying data model of a business process
Visualise processed data in multiple dimensions to maximise its business value.
Perform exploratory data analysis
Learning Outcomes:
Understand the uncertainties associated with data analysis.
Perform statistical analysis to a set of given data.
Make managerial conclusions about a set of given data using descriptive statistics.
Qualifications
Typically, you should have a first or second class bachelor's honours degree or international equivalent.

It is desired, but not required to have an undergraduate degree in a subject with high quantitative content.

Previous experience in computer programming is an advantage. You should include information about your quantitative and programming experience in your personal statement.
International students
If your first language is not English, you will need IELTS with a grade of at least 7.0 overall and no less than 6.5 in any of the four parts (listening, reading, writing, and speaking). If you completed your degree in the UK within the last 2 years prior to the start of the course, you may be exempt from our English language requirements.
Fees and funding details
---
Our online PGCert Business Analytics course costs £833* per 10 credits (10% alumni discount). Fees are paid in unit instalments corresponding with the course units. To qualify for a PGCert, you will need a total of 60 credits.
To learn the complete details, review the fees and funding page.
Why choose online?
---
Our active learning environment will keep you connected to the curriculum all the way through to graduation.
Engaging video content and real-life case studies
Interaction and networking with students and lecturers
Digital resources to support your studies and develop your career
University of Bath
Online learning
Interactive.
Immersive.
Supportive.
Designed exclusively for online study,
the University of Bath's Virtual Learning Environment…
takes the learning experience further.
1: Find everything you need quickly and easily
2: Prep your workload and set your weekly agenda
Unit calendar
Upcoming events
Calendar of deadlines
3: Study in bite-sized blocks at a time and place that suits you
4: Tap into a wealth of all-inclusive e-resources
5: Experience academic content in a variety of engaging ways
6: Connect with specialist support when you need it
7: Bring learning to life with video and real-world case studies
8: Enhance your studies with hands-on interactive assignments
9: Collaborate and network with peers and tutors
10: Build your own portfolio and share your best work
Take what you've learned and apply it in the real world
Time to further your career? Request information and apply now.
Webinars
Discover our Business Analytics webinars and get a feel for what it's like to study online at the University of Bath.
---
Watch recording 1 hour
Join course director Dr Lukasz Piwek to learn more about our Business Analytics online MSc and the application of machine learning methods and the future of analytics.
Watch recording 1 hour
Join course director Dr Lukasz Piwek to learn more about opportunities and challenges of using social media platforms for analytics applied across different domains.
Awards and rankings
Our awards and rankings highlight the academic rigour of our lecturers, research and course content.
---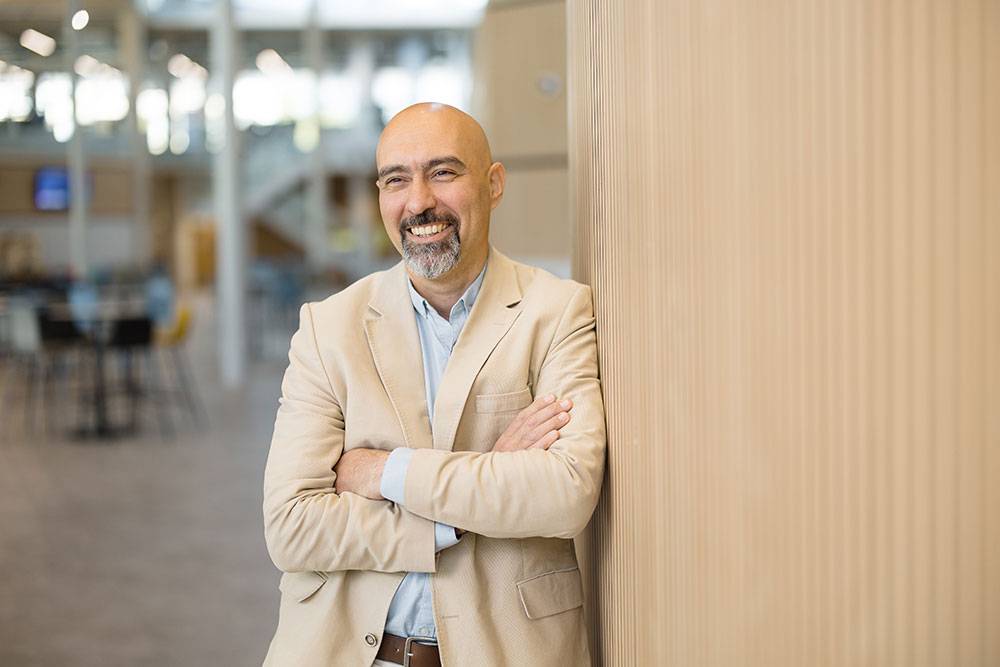 Prof. Gunes Erdogan
Prof Gunes is a Director of Studies MSc in Business Analytics, Information, Decisions & Operations, Bath Centre for Healthcare Innovation and Improvement. His area for research interest and expertise includes exact and heuristic algorithms for integer and mixed-integer optimisation problems and their applications to healthcare and logistics problems. His projects include the 'Vaccines4All' location, routing and allocation models to support large-scale vaccination and 'Newton RCUK - TUBITAK' innovating the Turkish Supply Chain for Services in Humanitarian Aid.
Explore your options with the University of Bath. If you are interested in studying the equivalent on-campus MSc, you can find out more by visiting our full-time Business Analytics MSc course page.