Unlock a whole new way of thinking
Blurring the lines between traditional business disciplines, our online entrepreneurship course helps you to see business as one interconnected whole. This big picture approach will empower you to reflect upon challenges in new and innovative ways, beyond established, siloed thinking.
Inspired by insights from Bath's real-world business connections, this course is designed to help you develop a pioneering mindset. Start with an endless curiosity and a passion for change, and you'll leave with the skills and confidence to make your innovative ideas a reality.
Whether you're a business person coming to this course with or without a management qualification, you'll gain a strong international network and the ability to innovate and execute decisions in your organisation.
Quick course facts
Minimum Duration:

 2 years, 3 months

Start dates:

 January, May and September 

Study Type:

 100% online
With the space to experiment and collaborate with students from around the world, our Entrepreneurship Management and Innovation online MSc will nurture your skills, helping you to expand a family business, start a new enterprise or drive change from within your current company.
Furthermore, studying online means you can master these abilities without interrupting your current career and lifestyle commitments.
Choose Bath online
Taught by lecturers at the EQUIS- and AMBA-accredited Bath School of Management, the course offers immediate access to cutting-edge research and industry thinking. Entrepreneurship is a key theme at Bath. We're home to one of the largest research centres on innovation and entrepreneurship in the UK.
As well as drawing inspiration from our lecturers, you'll be motivated by guest speakers and unique entrepreneurial case studies from Bath's real-world business connections. It's these global connections that keep the content contemporary and career-relevant. For students like you, these elements are key to helping you make your entrepreneurial ideas a reality.
I really believe that this programme teaches you of real life business environments, the theoretical part is important, but the things that you can apply, these are the things that stay in your mind afterwards. This programme is very suitable for people who are business oriented, who have the entrepreneurial mindset and who want to develop their own business activities in the future.

Lyubomir Hristonev
Career impact
---
Completing the course won't be the end – it will be the start of something bigger. After graduation you'll be fully equipped to take your entrepreneurial career to the next level. Whether you're driving change from within a current management role, spearheading a new business venture or building your family business, this course will equip you with the knowledge you need to compete with the best in this dynamic arena.
Why it matters who you learn with.
---
As you narrow down the possibilities of where to pursue your degree, consider who you'll learn with. Your cohort can be a strong benefit to the course you select.  When your peers come from around the world and share similar professional roles, their experiences enhance your learning and worldview. By learning alongside a diverse cohort, you'll strengthen your professional skills, cultural knowledge, professional network and can contribute to more areas of business. See just who you'll learn with in the University of Bath's online MSc in Entrepreneurship Management and Innovation.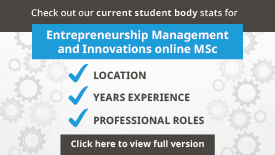 Entrepreneurship is at the core here, and business is covered in a holistic way. The course integrates the basics of business and management around a systemic enterprise with an emphasis on entrepreneurship.

Professor Dimo Dimov
Explore the curriculum
---
With a uniquely integrated approach that connects traditional business areas, the units are designed to work together as one complete entity – like a real business. This will help you to think differently, enabling you to perfect your entrepreneurial and management skills.
For starters, you'll gain a holistic understanding of the fundamentals of entrepreneurship to help you spot and act on opportunities in the real world. Other courses cover a broad range of valuable topics from entrepreneurial finance and funding through to innovation within your organisation via the entrepreneurship, innovation and organisations unit.
The course will finish with a master's project. You will develop a unique business idea into a viable business model.
The course has helped me examine issues and challenges in my current workplace in a structured way, and to understand the wider business and market environment the firm is operating in.

Olivia Rohll
Learning outcomes
---
Understand the principles of innovation management
Navigate the entrepreneurial journey from idea to venture
Explore unique business models and action your ideas
Think creatively about contemporary business issues
Develop the art of pitching winning propositions
Unlock the power of persuasion to garner support for ideas
Integrate data to inform your business decisions
Evaluate risk and adapt to challenging environments and situations
Qualifications
Typically you should have a first or second class bachelor's honours degree or international equivalent
If you do not have a first degree in a business-related subject, you will need practical work experience to support your learning
International students
If your first language is not English you will need IELTS with a grade of at least 7.0 overall and no less than 6.5 in any of the four parts (listening, reading, writing and speaking). If you completed your degree in the UK within the last 2 years prior to the start of the course, you may be exempt from our English language requirements.
Why choose online?
---
Our active learning environment will keep you connected to the curriculum all the way through to graduation.
Engaging video content and real-life case studies
Interaction and networking with students and lecturers
Digital resources to support your studies and develop your career
University of Bath
Online learning
Interactive.
Immersive.
Supportive.
Designed exclusively for online study,
the University of Bath's Virtual Learning Environment…
takes the learning experience further.
1: Find everything you need quickly and easily
2: Prep your workload and set your weekly agenda
Unit calendar
Upcoming events
Calendar of deadlines
3: Study in bite-sized blocks at a time and place that suits you
4: Tap into a wealth of all-inclusive e-resources
5: Experience academic content in a variety of engaging ways
6: Connect with specialist support when you need it
7: Bring learning to life with video and real-world case studies
8: Enhance your studies with hands-on interactive assignments
9: Collaborate and network with peers and tutors
10: Build your own portfolio and share your best work
Take what you've learned and apply it in the real world
Time to further your career? Request information and apply now.
Awards and rankings
Our awards and rankings are testament to our commitment to teaching and research excellence.
---
Webinars
Discover our Entrepreneurship webinars and get a feel for what it's like to study online at the University of Bath.
---
Watch recording 1 hour
Join Dr Sergio Costa as he gives an overview of the online course and a demonstration of our Virtual Learning Environment. Listen back to the live Q&A with student Anya Aujla-Jones.
Watch recording 1 hour
Join Dr Sergio Costa as he gives an overview of the online course. Listen back to the live Q&A with Dr Costa and student Olivia Rohll.
Watch recording 1 hour
Watch this webinar about ecommerce with the course leader, Dr Stoyan Stoyanov. Also hear more about our Entrepreneurship Management and Innovation online MSc.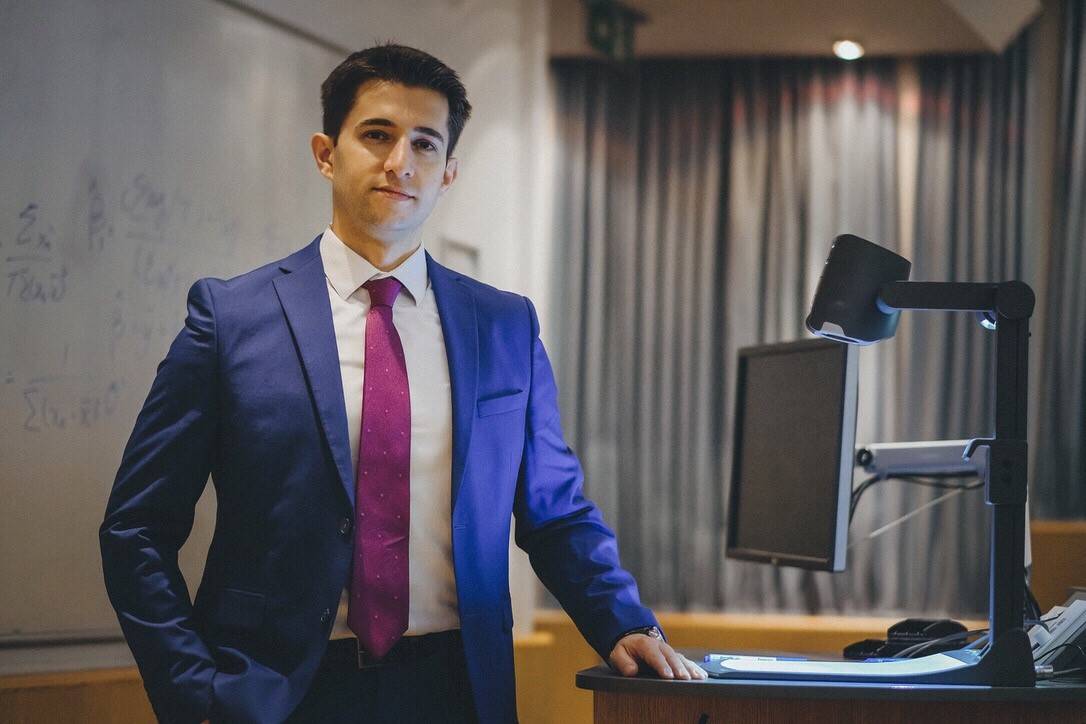 Dr Stoyan Stoyanov
Dr Stoyanov, faculty lead for the online MSc at the Bath School of Management at Bath, gained his PhD degree in Strategy and International Business from the University of Edinburgh. He has experience in entrepreneurship education, online learning technologies, data analysis, consulting, lecturing, and academic research writing. Some of his ongoing research considers 'Identity, adaptation and network embeddedness among migrant entrepreneurs'.
Explore your options with the University of Bath. If you are interested in studying the equivalent on-campus MSc, you can find out more by visiting our full-time Entrepreneurship and Management MSc course page.
Rankings based on undergraduate data