Course structure
The Entrepreneurship Management and Innovation online MSc curriculum is made up of 13 units totalling 180 credits. Each unit is designed to develop your pioneering spirit and help you bring your big ideas to life.
Students have between two years and three months and five years to successfully complete all of the units, including a final research-based project. Students in receipt of a Postgraduate Loan must complete the course in three years. Each 10 credit unit is 8 weeks in duration, and the units are run consecutively. Over the year, there are three short breaks – in December, April, and August.
The course begins with an induction to help you get to know the faculty team, your fellow students and our Virtual Online Environment.
Occasionally we make changes to our programmes in response to, for example, feedback from students, developments in research and the field of studies, and the requirements of accrediting bodies. You will be advised of any significant changes to the advertised programme, in accordance with our Terms and Conditions.
Entrepreneurship Management and Innovation online MSc
Unlock a whole new way of thinking
Set the stage for the future
Think like an entrepreneur and understand the way business is structured
Be prepared for new challenges and opportunities
Grasp the essence of business
Explore how everything in business, from operations to finance and strategy, is connected
At the heart of every business is a customer interface
Hone a pioneering mindset
Source new ideas, incubate them and solve problems
Forge the viable, scalable business models of the future
Shape your best ideas
Navigate the unique situational challenges between businesses
Put your propositions into action
Connect and showcase your thinking
Bring everything you've learned into one final project
Take all the skills you've gained
Apply your studies to…
Turn your innovative ideas into reality
Request information and apply today
Units
Develop a holistic understanding of entrepreneurship – in terms of the person, purpose, process and context associated with it.
You'll learn to:
Identify and evaluate entrepreneurial opportunities
Reflect on the skills and behaviours of entrepreneurs
Evaluate the phases and challenges of the entrepreneurial process
Evaluate the resource challenges associated with entrepreneurship
Understand the market interface of an operating business by integrating concepts and practices from marketing.
You'll learn to:
Identify and evaluate the value proposition of a business
Analyse customer segments
Evaluate the mechanisms for building customer relationships
Evaluate channels for reaching potential customers
Gain an understanding of the operational and organisational interface of a business by integrating concepts and practices from operations management, organisation design, and human resource management.
You'll learn to:
Identify and evaluate the activities associated with running a business and delivering its products and services
Evaluate the resource requirements and configurations behind the activities
Organise activities and resources into structures and processes
Evaluate the motivations for and governance of external partnerships
Develop a holistic understanding of the financial model of a business. This will enable you to facilitate managerial decision making. The unit covers the basic concepts and principles of financial business levers – revenues, costs, cash flow and investments – and how they integrate with the market and operational interfaces of the business.
You'll learn to:
Evaluate the roles of accounting and finance in a business model
Identify and evaluate the levers of financial and management accounting
Identify and evaluate types of revenue and cost, and their drivers
Evaluate cash flows and investment needs
Develop an understanding of the competitive context of a business and the strategic management associated with positioning the business within that context.
You'll learn to:
Identify and evaluate business strategies
Formulate and assess business strategies
Integrate business strategy and business model
Reflect on and evaluate how evolving economic, political, social, cultural and technological contexts of business affect strategy and drive its adaptation
Develop an understanding of the sources, origination and assessment of entrepreneurial opportunities. Explore the activities involved in actively searching for opportunity ideas, the creative processes that bring about such ideas, and the ways in which such fledgling ideas are continually assessed and developed.
You'll learn to:
Evaluate the market and industry context of entrepreneurial opportunities
Formulate new business ideas
Analyse the feasibility of business ideas and the challenges of their pursuit
Effectively present business ideas to others
Find out how to develop entrepreneurial opportunities towards viable business models. Explore the activities involved in the design of the customer, operational, and financial interfaces of the opportunity.
You'll learn to:
Formulate product and market hypotheses
Apply the principles of design thinking
Evaluate financial viability and investment needs
Gain an understanding of the processes and challenges of growing a business. You will explore the activities involved in the redesign of the business model for operation on a wider scale.
You'll learn to:
Identify and evaluate the tensions and pillars of growth
Formulate execution plans and dashboards
Evaluate the trade-offs of growth strategies
Evaluate organisational, talent, and investment needs
Explore the intellectual property issues associated with the commercialisation of new technologies and the development of technology-based ventures.
You'll learn to:
Evaluate the exploitation of new technologies as the basis of entrepreneurial opportunities
Assess the potential of technologies
Formulate strategies for capturing value from technological opportunities
Evaluate the merits of different methods of protecting intellectual property
Study the theoretical and practical aspects of processes and issues associated with financing entrepreneurial ventures.
You'll learn to:
Understand the nature and intricacies of various sources of financing across the different stages of venture development
Develop financial plans
Analyse investment proposals
Apply valuation methods appropriate to ventures at different development stages
Develop your understanding of the processes and challenges of implementing entrepreneurial initiatives within existing organisations.
You'll learn to:
Evaluate the challenges of organisational entrepreneurship
Evaluate the different forms of organisational entrepreneurship
Formulate plans for developing entrepreneurial initiatives
Explore collaboration opportunities within the broader innovation ecosystem
Develop an understanding of the processes and challenges of social entrepreneurship.
You'll learn to:
Evaluate the challenges of social entrepreneurship
Explore the tensions of pursuing social and financial goals
Assess the merits of different organisational forms for social entrepreneurial ventures
Explore collaboration opportunities within the broader social ecosystem
The course will finish with a project. You will produce a unique piece of research using techniques learnt throughout the year. This is an independent and practical research project. You will develop a business idea into a viable business model, choosing from four different types:
An independent venture
A corporate venture
A family venture
A social venture
The project can be taken over 3 months, 6 months, or 12 months. Students choosing the shorter pathways may have a substantially higher workload per week.
After completing the research you will be able to:
Identify, evaluate, and apply relevant theory to identify key business model assumptions behind the initial idea
Collect and analyse data to test these assumptions
Incorporate the results into more viable iteration(s) of the model
Capture the learning process in a written report
Course Structure and Outcomes
---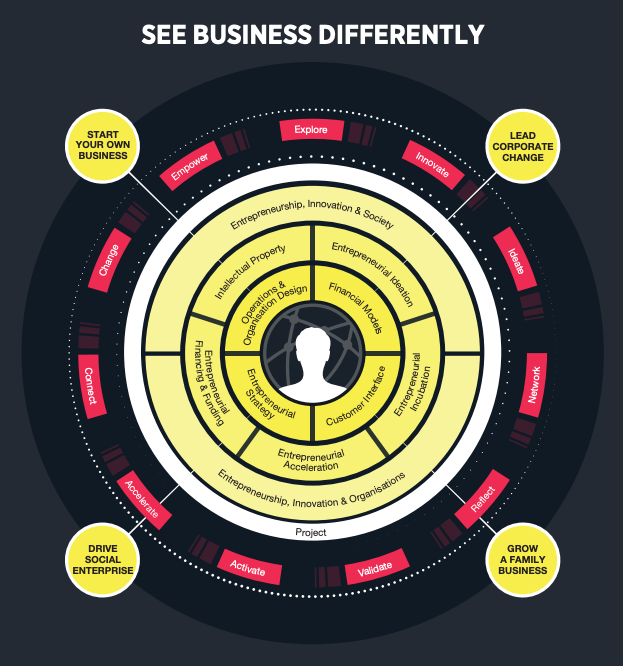 Central to the course are four aspects: Entrepreneurial Strategy, Operations and Organisation Design, Financial Models and Customer Interface. The course then builds on an understanding of these key tenants, through interacting with processes central to the entrepreneurial journey. These are as follows: Entrepreneurial Ideation, Incubation, Acceleration, Financing and Funding, and finally Intellectual Property. The wider purpose of your learning is considered within the course, by seeing how your skills can feed into entrepreneurship, innovation and its place in organisations, and society. Your final project is about bringing together these central points of a business, rather than detaching them into different segments. This process encourages you to think about the business as one interconnected whole. The end goals range from you being able to start your own business, lead corporate change, drive social enterprise and/or grown a family business.
The online MSc really helps you structure and organise your professional knowledge, so you can tap into knowledge you would not otherwise realise you could access. It builds perfectly on your own professional experiences of working within an organisation, or of embarking on entrepreneurial ventures.

Anya Aujla-Jones